Studiosi della Fondazione VI
A key objective of the LIL Foundation's La Famiglia Scholarship Program is to support the next generation of Italian-American leaders as they continue to demonstrate the contributions that continue to be made by individuals of Italian descent. This is the sixth in a series featuring past scholarship awardees fulfilling that objective.
"It's part of who we are."
In 2011, Charles (Buck) Corasaniti, son of Lodge members and St. Leo Church stalwarts, Sue and Joe Corasaniti, was sponsored by his parents in the 2011 Little Italy Lodge Scholarship Program and was awarded one of the four scholarships that year (including one to his fraternal twin brother, Sal).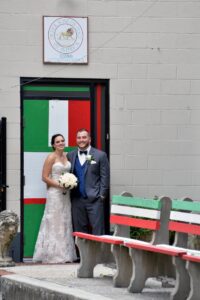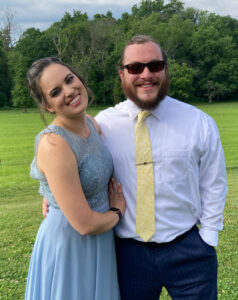 Buck entered the Business program at the University of Delaware in 2011, completed the program in 2014, including a semester of study at Nanjing University, in Nanjing, China, and graduated with a Bachelor's Degree in Marketing, with Minors in Economics and International Business. While at UD, Buck performed as an actor with the Harrington Theatre Arts Company and sang with "The YChromes," an all-male a cappella group. It was within this group of friends where he met his wife, Caitlin. He and Caitlin became a couple and, when Caitlin decided, upon graduation, to go to the University of Florida graduate school in Gainesville, Buck decided to move to Gainesville. Subsequently, when Caitlin enrolled in a PhD program at the University of California at Davis (where she recently received her PhD in Biomedical Engineering), Buck decided to move to California!
When Buck graduated from UD, he joined Enterprise Holdings, the auto leasing and rental company with over 7,600 locations in 85+ countries, including one in Gainesville! He progressed to Branch Manager and was able to arrange a transfer to California, when he decided on that move, where he promoted to their Car Sales Department!
In spite of their school, location and job changes, they still managed to arrange for their wedding at St. Leo Church – "back home" for Buck – in October of 2018. Now, they are settling down near family, friends and community in Baltimore, having purchased their first home a few weeks ago in Dundalk.
Buck is now with Aya Healthcare, the largest travel nursing agency and healthcare staffing company in the world, initially as a Nurse Recruiter and now in their Finance Department. Caitlin works in the research labs at the Kennedy Krieger Institute.
Throughout his years at Calvert Hall College High School and the University of Delaware, Buck could be found, along with his parents and his twin brother, volunteering at various St. Leo Church and Little Italy community events. When he and Caitlin decided to plan their wedding, they chose St. Leo Church in Little Italy. And, today, their path has led them back to Baltimore where they are settling into their new home with their rescue dog, Leo. When asked about their attachment to St. Leo Church, Little Italy and Baltimore, Buck responses, "It's part of who we are."
We are proud to have helped Buck begin this fantastic journey! And, as to the Foundation's objective? Ancora una volta, missione compiuta!
– Tony Montcalmo