From The Desk of Paul R. Rao PhD, President of The Little Italy Scholarship Foundation
In Memoriam:
Anthony Verdecchia: May our esteemed Little Italy Lodge Brother Rest In Peace. The Scholarship Foundation wishes to express its most sincere sympathy to the Verdecchia Famiglia over the sudden and horrible loss of Anthony "Tony" V. on November 1, 2021. Tony was the very first soul I met in 2018 when he introduced me to the Lodge's reorganized tax exempt Foundation and asked if I was willing to serve as its 1st President. Tony was the Scholarship's Operations Leader, navigating the non-profit scholarship arm of the Lodge to a completely new and exciting beginning. Tony served on the inaugural Foundation Board and ALSO was the Secretary, Treasurer and Chief Cook and Bottle Washer. In short, Tony V. was the unannointed Keeper of The Scholarship Foundation Flame that sparked its renewal and today's obvious success in meeting its mission. When I began in 2018, Tony V. passed on to me a decade of files and minutes and scholarship applications. Tony and I had our moments of disagreements over these past 3 years, but our joint efforts were ALWAYS aligned with our mission to serve the kids, Tony was passionately and tenaciously determined to protect and enhance the legacy of The Little Italy Lodge's Scholarship Foundation. Tony's attention to detail, advocacy for the institution, and multitasking were hallmarks of his unique back stage, unassuming leadership. Tony was known for the old school habit of doing the right thing…ALWAYS. Every Foundation event saw Tony V. generously and humbly serving in the kitchen. his contributions to our Foundation were legendary during his life. Amazingly, now Patricia, his wife and the Verdecchia family have elected to identify the Little Italy Lodge Foundation as the recipient of any contributions In Memoriam. May the Lord hold Tony Verdecchia in the Palm of His Hands. We will sincerely miss Tony's steady and honest contributions to our Foundation.
—————————————————————————————————————————————————————————–
Mike Girolamo: Long time legendary Little Italy Lodge Brother passed away at 95 years after a long illness on November 17, 2021. The Foundation wishes to express our most sincere sympathy to Mike's Famiglia and amici.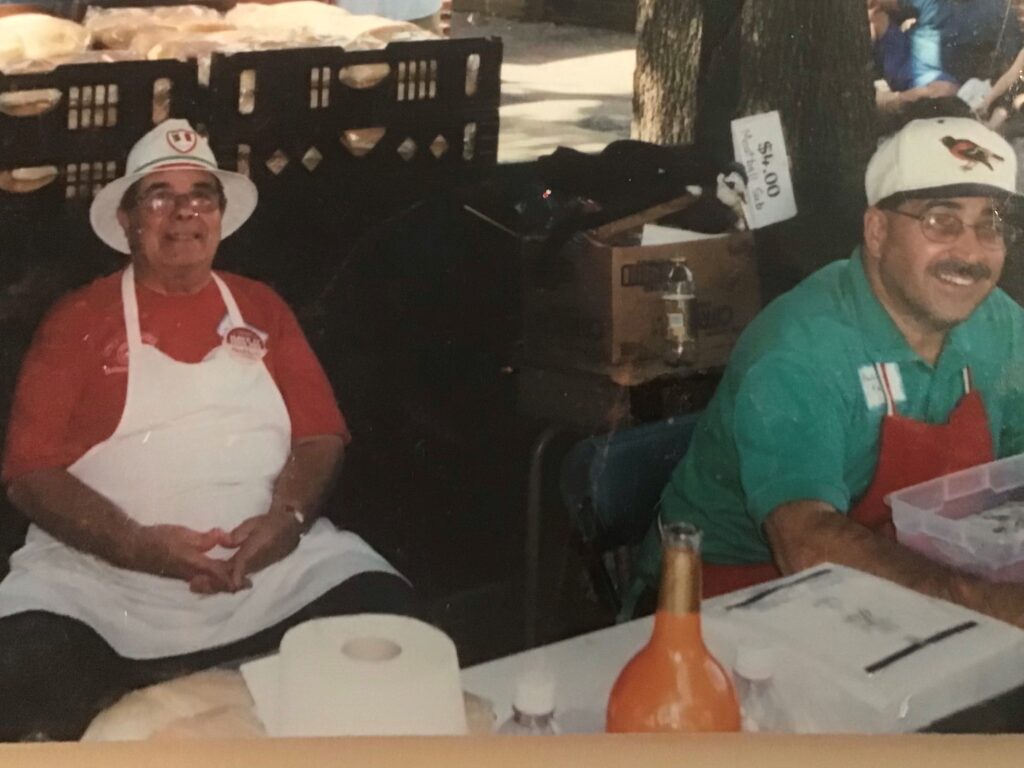 Mike introduced my Martina and me to the Lodge via a Pandola Learning Center Bread Baking Class 30 years ago. From that day…Mike and Mary were our friends for life. Mike was the Lodge's Travel Planner and hosted us for our first cruise to Alaska where we met and loved all of the traveling lodge members. Mike recruited us to serve at the Meatball Sub stand during the two church festivals and crafted his special sauce with secret Girolamo ingredients. He would be our barker and magnet to bring in the business for his beloved St Leo's. May Mike Rest In Peace.
——————————————————————————————————————————
New Addition to The Little Italy Scholarship Board of Directors:
Please welcome the most recent addition to our Board of Directors. Foundation Board Chair, Vince Piscopo, has announced our newest member to the Board. Lou Mazzulli Jr., long time Little Italy Icon and Amici, has joined our 15 member Board. Lou, Little Italy Lodge Member and former Chair of The AIAC, and CEO of Little Italy based Hospital Support Services, brings a lifetime of support and devotion to the Italian American community in general and Little Italy specifically. Avanti with Lou!
——————————————————————————————————————————
New Addition to The At Large Committee (ALC):
Please welcome the NEW Foundation Webmaster! In the past two months, I put out a plea for a Lodge Member to join our ALC and manage our website. The most highly qualified volunteer who stepped up and volunteered was the wonderful and gifted Gary Molino. Gary, a long time Little Italy Lodge Member, is a retiree and data management guru who has many ties to Little Italy. God bless Gary for joining our ALC Team and supporting the Foundation's unmatched mission of giving! We want to express our most sincere appreciation to our original Foundation webmaster, Chris Pisano, who has proven to be the Swiss Army Knife of Volunteerism. Chris not only is the editor of the La Notizia but also our Lodge Chief Cook, The ALC Webmaster and Chair of The Foundation's Scholarship Evaluation Committee. Chris established our web site and maintained it for several years and now is passing the baton to Gary! Mille Grazie Gary!
Mille Grazie,
Paul R Rao PhD