Recent global events remind us of the importance of protecting our values and our way of life. The LIL Foundation can claim a small role in helping in that protection by supporting the education of our scholarship recipients!
For example, Ian Hughes, son of Celeste and William (Bill) Hughes, both loyal and hard working Lodge members, is a case in point!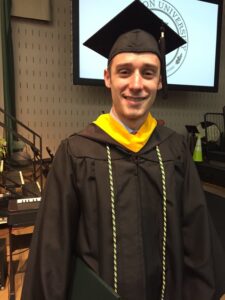 Ian, sponsored by his mother, Celeste, received a LIL scholarship in 2014. He was attending Stevenson University in Owings Mills, MD, where he completed his Bachelor's Degree requirements in Criminal Justice in 2015 (Summa Cum Laude) and Master's Degree in Forensic Studies in 2016! To achieve these two degrees so close together, he needed to participate in the demanding, accelerated Master's Degree program offered by the school. The program required that he complete his Bachelor's Degree requirements while "doubling up" with Master's Degree coursework, a substantial academic workload! In addition, while engaged in this dual program, Ian, also, participated in his University's marching band and carried the responsibilities of a Residence Hall Assistant.
Upon graduation, Ian was offered and accepted a position with the Baltimore-area operations of Northrop-Grumman, the international, 90,000 employee, $30 billion defense contractor. Today, he serves as a Manufacturing Supervisor, managing a group of employees producing advanced electronic circuit boards for military and civilian radar systems, satellites and aircraft!
While in school, Ian was and, to this day, remains highly visible volunteering at Little Italy Lodge, Little Italy and St. Leo Church events, working whenever he can in any capacity asked. He can, most typically, be found working near his parents who are, also, ever-present at those events, evidence that the outreach and involvement of parents are often translated into outreach and involvement by families.
Of his heritage, his family and what he has learned from both, Ian says, "I always remember how fortunate I am and how important it is to payback and to help those less fortunate than I am, locally and on a broader scale." Of the Little Italy Scholarship, he adds, "I cannot thank the Lodge enough for helping me financially as I pursued my educational goals." In return, the Little Italy Lodge, the Italian-American community and the Little Italy Lodge Foundation cannot thank Ian enough for the valuable work he does on our behalf and for demonstrating, again, the value that those of Italian heritage continue to provide!
And, in terms of the Foundation's objective? Missione compiuta! – Tony Montcalmo