Scholarship Awardee Victoria (Tori) Tully was the recipient, in 2017, of one of the inaugural Jerome & Angela Elliott La Famiglia Scholarships. Sponsored by her Mother, Donna Tully, Tori was a rising Senior at the University of Maryland, College Park (UMCP). In 2018, she received her dual Bachelor degrees in Medical Anthropology and Global Health & Development.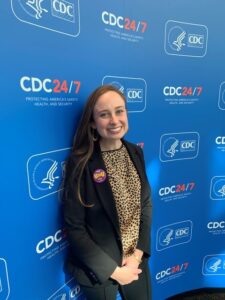 While at UMCP, she served as President of the Catholic Relief Services Chapter, Vice President of the Delta Epsilon Mu co-ed fraternity for students and professionals interested in pre-health (pre-med), an editor for The Diamondback newspaper, and a Counselor at a crisis intervention hotline! In addition, she spent two winter-terms attending and leading Alternative Breaks trips to Haiti for community development and one winter-term studying global public health in India. In addition to her extracurricular activities, Tori interned at Catholic Relief Services, The McCain Institute for International Leadership, the Centers for Disease Control and Prevention (CDC), Center for Research on the Changing Earth System and the Army Public Health Center. For her leadership, Tori was inducted into Omicron Delta Kappa (ODK) in 2017.
Upon graduation, Tori worked as a research assistant at Johns Hopkins Bloomberg School of Public Health before moving to New Orleans, Louisiana, as part of the CDC's Public Health Associate Program (PHAP). While in PHAP, she worked in HIV and deployed virtually four times for CDC's COVID-19 response. For her efforts, she earned the Public Health Service COVID-19 Pandemic Civilian Service Medal. Today, she serves as Public Health Advisor at the Center for Disease Control and Prevention (CDC) at its Global Tuberculosis (TB) Branch Division, Global HIV/TB, in Atlanta.
Her diverse experience, working in research and with governmental organizations and non-profit programs and, particularly, in dealing with global health issues, reflects her deep and unique level of commitment to social and health equity. Tori credits stories from her grandmother, Amelia Gray (née Valenzia) who was raised in Baltimore by her Sicilian immigrant parents, with teaching many of the life lessons that have driven her to pursue her goals, including the importance of education. As a first-generation college graduate, she thanks the Lodge/Foundation for its help in supporting her in her career preparation. She recognizes the power of education and hopes to dedicate her career to lifelong service. She feels immense gratitude for the Lodge/Foundation's effort to ease the financial burden for her and for generations to come.
As a lifelong learner, Tori is currently taking French language courses and intends to obtain a Master's Degree in Public Health in the next couple of years. In her spare time, she enjoys reading, traveling, and spending time outdoors.
And, in terms of the Foundation's objective? Missione compiuta! – Tony Montcalmo